Who We Are
As a CERTIFIED FINANCIAL PLANNER™ professional, I help you stop committing what I call random acts of finance and develop a good working relationship with your money that reflects your core values. No matter where in life you find yourself, I can help you see your future and create a plan to reach your goals.
---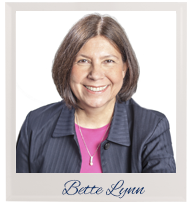 Bette Lynn Paez
Computer Chips to Chocolate Chips to Blue Chips
– An Original Recipe for Success
After earning her BA from Ithaca College and her MBA from Carnegie Mellon University, Bette Lynn joined IBM in Pittsburgh as a Marketing Representative.
Retiring early from the corporate world, she opened Bette Lynn's BakeHouse in Black Rock, CT. After four years, she knew she was rolling in the wrong kind of dough. She switched gears to freelance as a small business consultant and technical writer, something she continues to enjoy to this day.
Getting serious about money led Bette Lynn to acquire the CERTIFIED FINANCIAL PLANNER™ certification. Since 2001, this long-time number cruncher has been helping busy, motivated people make savvy decisions about their money. She maintains licenses for financial planning to create a strategy, and licenses for investments and insurance to support her clients in implementing their plans. Series 7, 63, 65; AIF®; CFP®; Life & Health; CT, MA, NY, NJ Long-term Care Partnership.
---